This blog began on July 15, 2006, with the post

Getting Started

and it is now three years old. Other than a required change of uniforms (above) it has pretty much stuck with its intended plan: Present for any that want to read Oklahoma City history (past, present, future) and well as OKC in the NBA. I won't claim that my research underlying the articles is flawless — I learn something new most every day — but I do claim that I make every effort to thoroughly research what I write about and that the written articles produced here are as accurate as available sources will allow.

Jump to the parts of this article that may interest you, below:



This Year's Stuff The Blog's History
Blog Statistics My Top 10 Favorites


THIS YEAR'S STUFF. Much if not most of the articles done during the past 12 months are "buried" in a pair of off-blog collections but which are accessed via the blog: The Ultimate Deep Deuce Collection and The Vintage Clickable Map. So, if you never enter those areas, there's lots that you will not see. For a slide show which contains one graphic from each of about 140 items done this year, click the button below and the flash file will load. It's a bit big at 14.6 MB, so be patient while it loads. Turn off your sound if you don't like the Flaming Lips' Do You Realize, the state's official rock song despite Oklahoma House Republicans' efforts to avoid that. Unless you interrupt it, run-time for the flash slide-show is about 7 1/2 minutes. You can jump around by categories (general history, Deep Deuce, clickable map, books, today, miscellaneous, and Thunder) and you can stop the video any time you like.



BLOG HISTORY. Earlier, I posted a 1st year retrospective and then a Year 2 In Review article, and this one is the 3rd such commemorative. At least in part, the inspiration for this blog were the posts of the "Downtown Guy" in a now-distant past. Will the Downtown Guy ever come back? Will he ever reveal his true identity? Will he ever again leap tall buildings in a single bound? One day, I hope that he will do all three. In my estimation, at an earlier time the Downtown Guy's blog posts were the primary internet stimulus for interest in Oklahoma City history. Come on, Clark, it's time to come out of the closet!

Oh, well, back to topic. I said in the beginning that the blog's focus would be Oklahoma City history, with a sub-interest on Oklahoma City's involvement with the NBA. With occasional diversions, I've not often veered from that focus.

3rd YEAR STATISTICS. The blog's statistical history is graphically shown below (click on graphics for a larger view):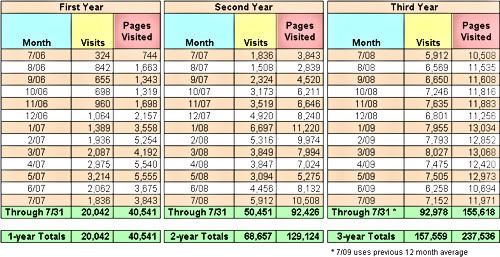 Graphically that detail is shown below:
In the main, the blog's "hits" and "page views" have shown a healthy progression … each year more than the last. The past year almost doubled the hits during the 1st two years combined. It's hard to complain about that, with the immediate past 12 months averaging 7,152 hits and 11,971 page views per month. The 3-year cumulative totals are (using the past 12-month average to extrapolate for the full current month of July) 157,559 visitors and 237,536 page views.
MY TOP TEN PERSONAL FAVORITES. It's kinda hard to pick — should such a list be (a) those I enjoyed doing the most, or (b) those which I perceive to have added the most to Oklahoma City's reservoir of available on-line history? Dunno. The list below is probably a blur between the two criteria and is in random order.
Another personal favorite and one which I take no credit for is the article which presented the beautifully stunning view of Oklahoma landscapes by oklavision.tv. In fact, it is so good I'll embed the video here, one more time:
I thank each of you for visiting Doug Dawgz Blog during the past year and I hope that you'll keep on coming back for more Oklahoma City history.
Go To Top