This post should be called New Year's 2006-2007, but I'll know better next time!
Lots of stuff going on in downtown OKC in December … such as … "Downtown In December" sponsored by Downtown OKC …
… not the least of which is the upcoming
Devon Energy Oklahoma River Parade
on Saturday, December 16:
Click here for River Parade pics like the one below:

BUT NO, this post isn't about those fine goings on right now in OKC.

THIS POST is about New Year's EVE AND New Year's DAY and serves as a reminder that it's time to start planning!

DOUG DAWGZ HOPPIN' JOHN


This recipe was updated in my December 31, 2011, post,
as well as to provide a downloadable PDF file.


Whatever you do on New Year's Eve (2 suggestions follow), consider this to be Doug Dawgz contribution to your New Year's DAY … but remember that grocery stores seem to run out of black-eyed peas before December 31 … so … buy them now! No, my recipe is not yet "historical", but, trust me, it's damn good and, one day, it will be!
It is rumored that unless you eat black-eyed peas on January 1, January 2 ~ December 31 will not bring good fortune. Why take such a chance? This recipe provides one way to avoid such calamity.

This recipe provides more such risk avoidance than you may want. But, why not just go ahead and make plenty … share with your family and office-mates … excess portions may be frozen for later consumption, like at such time(s) that you may feel you need a boost of good luck!

WHAT YOU NEED

A giant pot … large enough to put a small beagle in … a pot at least 12-14″ in diameter and 12″ or more high, with a lid
2 1-lb. bags of dried black-eyed peas
2-3 lb. ham (it doesn't really matter what kind)
4-6 ham hocks
3-4 large (18-19 oz) cans of tomatoes (depending on how "tomatoey" you want the mix to be)
1-2 15 oz. cans of tomato sauce (ditto the "tomatoey" comment, above)
3-4 medium yellow onions
4-10 tabasco peppers (see General Tip)
1/2-1 tsp. salt (see General Tip)
3-6 tsp. chili powder (see General Tip)
1 package of sliced almonds
2 cups of rice(s) of choice (I like to use a mix of white, wild, and brown)

WHAT YOU DO
1. Soak dried black-eyed peas in water as directed on the bag (usually overnight), or at least 2-3 hours prior to cooking (if you like "crunchy" beans). Be sure to drain the beans … in a strainer … else you may get more "crunch" (and broken teeth) than you desire!
2. Mix into the giant pot all ingredients except the rice … mix the beans, the ham (diced into dimensions that suit you, e.g., about 3/4″ square), the ham hocks, the canned tomatoes (including the water, and slicing the tomatoes in the pot), the tomato sauce, the onions (chopped), the tabasco peppers (finely chopped), the salt and chili powder, and the almonds
3. Stir and add water as needed to cover the mixture
4. Cover & cook on low-medium heat for about 1 hour
5. Add the rice of your choice and continue cooking until the rice is done … up to 1 hour
6. Eat (at least some on January 1) and/or Freeze … the mixture freezes and saves nicely
7. Other Things … cornbread is good but not required for good luck but if you really to dazzle your company try out my chocolate ice box pie, inspired by Toddle House's pie of the same name!


GENERAL TIP: Seasonings can be added as the mixture cooks … so, you might want to add less or more than what I've suggested before it's all done … but, remember that it's easier to add seasonings than it is to get rid of them. This is particularly true for (1) salt, (2) chili powder, and (3) tabasco peppers! It's quite OK to add as you go, to suit your personal palate!
But … the night before you pig out on Hoppin' John, two events are available for you to consider …
OPENING NIGHT
Click for larger pic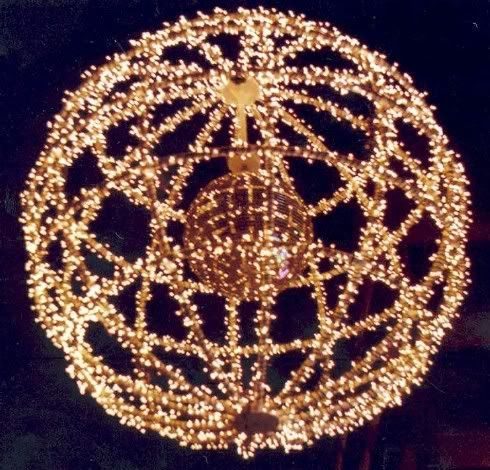 Since 1987, the Oklahoma City Arts Council has sponsored Opening Night, a very successful family-oriented celebration of the New Year in downtown OKC. The Arts Council describes the event, generally:
Opening Night 2007 invites everyone to Downtown Oklahoma City on New Year's Eve to celebrate with music, dancing, theatre and fireworks! Since 1987, Opening Night has been the way to ring in the New Year. All performances take place in non-alcoholic venues.

Opening Night is Sunday, December 31st, 2006 from 7 p.m.-midnight in 13 venues around Downtown Oklahoma City and Bricktown. This year's entertainment features more than 40 performers on 18 stages.

An Opening Night admission button allows you access to all venues, all night long. Buttons are just $8 in advance, and $10 the day of the event, with children under five admitted free. Purchase buttons starting December 13 at MidFirst Bank locations, metro Homeland stores, Mathis Brothers Furniture, or at the event.
For a map of the events, click here. For a list and the venue/times of performers, click here, and for an overall schedule, click here.
CENTENNIAL NEW YEAR'S EVE DRESS BALL
A competing event in OKC this year is the Centennial New Year's Eve Dress Ball sponsored by and located at the Oklahoma History Center at 2401 N. Laird, at the NE corner of the State Capitol Complex. For more about the Oklahoma History Center, see my prior post.
Click for larger pic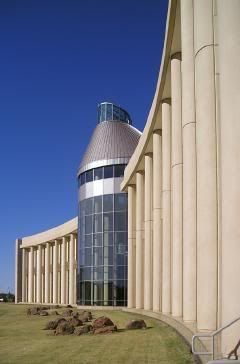 Since one can have a "Centennial Ball" only once every hundred years, this one may be hard to pass up, if one can cough up the cash and get some cool duds to wear to it!

This one's more expensive ($75 per person) and either "formal or 1907" attire is requested. If interested, click here for more information.

Most of the festivities will probably be in the event center, below:

Click for larger pic


Doug Dawg wishes A Happy and Prosperous New Year To All!