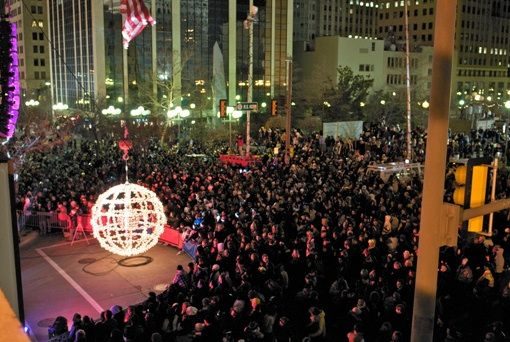 This year's downtown celebration of New Year's Eve has its usual flair, with some pluses and a bit of rearrangement. Called "Opening Night," this event sponsored by the Oklahoma City Arts Council first occurred in 1987 and has progressively grown since then and transverses most all of downtown Oklahoma City from 7 pm through and after midnight.
This year, the lighted ball will rise from the rejuvenated Myriad Gardens Grand Lawn at 11:30-midnight capped with a glorious array of fireworks instead of that activity's long-standing location on Broadway south of NW 4th Street, near Kerr Park, shown in the top image. See

this Oklahoman article

for more information about Opening Night events. For sure, the 4-0 Thunder (currently tied with Miami for best in the NBA at this time) will be playing Phoenix at 7:00 at the Chesapeake Arena and will almost certainly extend their record to 5-0. For sure, Wayne Coyne and the Flaming Lips will perform at the Bricktown Coca Cola Events Center on December 30 and December 31, augmented by Yoko Ono and Sean Lennon, son of John. (The post-concert party for the December 31 Flaming Lips concert

has now been relocated

to the Okc Public Farmers Market, 311 S. Klein, due to Fire Marshall issues.) And

much much more

will transpire on New Year's Eve in downtown Oklahoma City.

But, this post is not about Opening Night 2011-2012 events in Oklahoma City. It is about what to EAT on New Years Day — it is about "New Years EATS."



Doug Dawgz Hoppin John My Mom's Apple Pudding


BLACK-EYED PEAS. This, of course, is the absolute "must do" on New Year's Day, and my personal and spicy recipe may be just what you want:

DOUG DAWGZ HOPPIN' JOHN
Download or open a PDF file for this recipe here

Whatever you do on New Year's Eve, consider this to be Doug Dawgz contribution to your New Year's DAY … but remember that grocery stores seem to run out of black-eyed peas before December 31 … so … buy them early! No, my recipe is not yet "historical," but, trust me, it's damn good and, one day, it will be!
It is rumored that unless you eat black-eyed peas on January 1, January 2 ~ December 31 will not bring good fortune. Why take such a chance? This recipe provides one way to avoid such calamity.

This recipe provides more such risk avoidance than you may want. But, why not just go ahead and make plenty … share with your family, friends, and office-mates … excess portions may be frozen for later consumption, like at such time(s) that you may feel you need a boost of good luck!

WHAT YOU NEED

A giant pot … large enough to put a small beagle in … a pot at least 12-14″ in diameter and 12″ or more high, with a lid
2 pounds of dried black-eyed peas
3 pounds ham (it doesn't really matter what kind, but if fatty,cut out the fat)
3-4 ham hocks
3-4 large (18-19 oz) cans of tomatoes (depending on how "tomatoey" you want the mix to be — I use 3)
2 15 oz. cans of tomato sauce
3-4 medium yellow onions
4-10 Tabasco peppers (see General Tip — I use 10)
½ -1 tsp. salt (see General Tip)
3-6 tsp. chili powder (see General Tip — I use 5)
2 small or 1 large package of sliced almonds — this is for "crunch"
2 cups of rice(s) of choice (I like to use a mix of white, wild, and brown)

WHAT YOU DO


1. Soak dried black-eyed peas in water as directed on the bag (usually overnight), or at least 2-3 hours prior to cooking (if you like "crunchy" beans). Be sure to drain the beans in a strainer else you may get more "crunch" (and broken teeth) than you desire! (Years back, small rocks were present but less so now.)
2. Mix into the giant pot all ingredients except the rice … mix the beans, the ham (diced into dimensions that suit you, e.g., about 3/4″ square), the ham hocks, the canned tomatoes (including the water, and slicing the tomatoes in the pot), the tomato sauce, the onions (chopped), the Tabasco peppers (finely chopped), the salt, chili powder, and the almonds
3. Stir and add water as needed to cover the mixture
4. Cover & cook on low-medium heat for about 1 hour
5. Add the rice of your choice and continue cooking on low heat until the rice is done … around 1 hour; if needed, add more water
6. Eat (at least some on January 1) and/or Freeze … the mixture freezes and saves nicely
7. Other Things … cornbread is good but not required for good luck.


GENERAL TIP: Seasonings can be added as the mixture cooks … so, you might want to add less or more than what I've suggested before it's all done … but, remember that it's easier to add seasonings than it is to get rid of them. This is particularly true for (1) salt, (2) chili powder, and (3) Tabasco peppers! It's quite OK to add as you go, to suit your personal palate!
MY MOM'S APPLE PUDDING. This has nothing to do with good fortune, other than for your taste buds. Once you try this recipe, you may become addicted — it is that good!
The Background Story. During many of the years after my 1961 high school graduation, I have yearned for some of what my mom simply called "apple pudding" but it's a recipe that she didn't pass along except in my memories. From time to time, I've looked for a recipe that would make this tasty dessert but all my attempts at mimicry failed. On December 26, 2011, I Googled again and found the recipe below (slightly modified here) at Carolyn T.'s http://tastingspoons.com/ archives/92 for her own mom's "Crisp Apple Pudding." Here's why I'm so bold to say that Carolyn T.'s mom's recipe is also my own mom's recipe for the same apple pudding — that and the fact that I've now cooked it and it's just as good as I remembered.
In her own blog page about this recipe, Carolyn T. said:
I would be ever so negligent if I didn't post one of my favorite recipes, my mother's Crisp Apple Pudding. I've been making this for as long as I've been cooking (that began in 1962). It was written out in my mother's small recipe journal, something she began when SHE got married in the 1930's, a recipe from her mother. And she passed this recipe on to me when I got married. * * * I believe — but I'm not sure — that this recipe came from a vintage (probably 1930's version) Betty Crocker Cookbook. Or maybe it was a Better Homes & Gardens. Did they publish cookbooks back in the 1930's? I think one time in a used book store I saw a very old, stained copy of one of those books and glanced in it, and sure enough, it looked like this recipe.
My mom, Elizabeth, was also a devotee of one or both of those cookbooks in the 1930s and 1940s and that was the clincher since she probably didn't get recipes from any other cookbooks as far as I'm aware. I'm completely confident that this is the identical recipe used by my mom who would have had one or both cookbooks in the 1930s when my older brothers were born, and, of course, on and after I was born in Oklahoma City 1943 and during my childhood years. Many years later, at the end of 2011, I thank Carolyn T. not only for the taste but for providing another remembrance of my mom via a recipe which both of our moms had in common.
MY MOM'S APPLE PUDDING
Download or open a PDF file for this recipe here
WHAT YOU NEED

1 cup flour
1 cup sugar (or 7/8 cup if desired)
1 teaspoon baking powder
1 whole egg, beaten
1 teaspoon cinnamon
1 teaspoon nutmeg
2 tablespoons butter (salted is better tasting but use unsalted if you're wanting to reduce salt)
1/4 cup water
2 tablespoons sugar
4 large or 5 small cooking apples, peeled & sliced – use firm apples whether tart or semi-sweet as you prefer

Makes 6-8 Servings

Per Serving, Approximate: 309 Calories; 5g Fat (15.1% calories from fat); 3g Protein; 64g Carbohydrate; 3g Dietary Fiber; 46mg Cholesterol; 133mg Sodium

WHAT YOU DO


1. Preheat oven to 350°.

2. Spread sliced apples into an 8×8 or similar baking dish (here, a 5 x 9 oval baking dish is used).

3. Sift together the flour, sugar and baking powder. Add the egg and mix well. Spread this mixture over the top of the apples, spreading evenly. Sprinkle the top with the spices and the 2 tablespoons of sugar. Very important step: Use your fingers to sprinkle the water over the top as evenly as possible (this step makes the top crusty and crisp). Dab the butter on top in small squares, as shown above.

4. Bake for 35-45 minutes or until the top is brown. Cool for about an hour or until the pudding is at or near room temperature. Servings can be topped with milk, half & half, heavy cream, or other dairy topping. My mom could only afford milk, so that is what she used. And I loved it.
That's it! Enjoy, and Happy New Year!
Go To Top