Credit the above to Colonel Thunder @ okcthunderfans.com
Always go to okcthunderfans.com for the best Thunder talk on the net.
The questions posed not so very long ago now are now shadows barely remembered — in 2005-2006, the question was
"What's it gonna be, boy"
and
Gregg Doyel and Greg Wyshynski debated
in the national press whether Oklahoma City would ever get an NBA team. In 2007 the Hornets returned to New Orleans but not without
heartfelt sadness and nostalgia
by those of us left behind in the post-Katrina wake. But, in July 2006, the Seattle SuperSonics were purchased by a group of Oklahoma City investors, they committing to stay in the Seattle area if a new contract and arena were accomplished by October 31, 2007, but, otherwise, all bets were off. When Seattle and Washington State fumbled and did not deliver, Oklahoma City was given a golden opportunity, but we'd need to move quickly. We'd need to upgrade our arena,
which we voted to do
. The NBA would need to approve of the relocation,
which it did
. By October 2008, the former Seattle team played its 1st preseason game when associated with the name, "Oklahoma City Thunder."
But, with our not-altogether-unrequited love affair with the Hornets, would the Thunder ever really be embraced by us as our team?

After a dismal 1-12 start, after the November 21 loss to the Hornets, P.J. Carlesimo was fired and Scott Brooks was hired as interim coach and he brought his team to 23-59 by season's end, after which he became the actual head coach. The fans were good with the progress. A playoff team, though, was thought to be 2-3 seasons in the future.
Here we are at the All-Star Break, 2010, and that future is incredibly and realistically reachable on the horizon by the time this regular season ends on April 14. At the 2010 All Star Break, the Thunder's record is 30-21, 5th seed in the Western Conference and the team is on a 6-game winning streak. Kevin Durant will play in the All Star Game this weekend and Russell Westbrook was last week's Western Conference player of the month.
What a difference a season makes, and I don't mean only the team and individual member accomplishments — I mean the city's acceptance of this Thunder team as their own. Like the turnaround of the win-loss record, the embracement of the Thunder and letting-go of the Hornets has not been easy to come by.
But, it has occurred. By the time that the New Orleans Hornets visited (and beat) the Oklahoma City Thunder on January 6, 2010, after giving Chris Paul, David West and others a warm welcome during team introductions, Oklahoma City fans had no reluctance to boo when they felt that Paul was receiving overly generous calls by the officials — Paul later said that he was surprised by that. After all, this city was where both he was introduced into the NBA, and we it.
Love lost?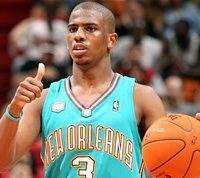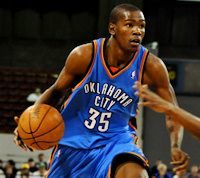 No, not lost, just put where it belongs, in the past.
I was at that January 6 game and badly wanted for MY team, OUR team, to whip those Cajun guys. We didn't (and I still think we was robbed of a win by the officials), but about a month later, on February 3, we did, whipping the Bees on their home court. If nothing else, that game broke a string of 10 consecutive losses to the Hornets spanning back to Seattle days. As — if not more — gratifying to me and others was the fierceness with which Oklahoma City FANS wanted to win both of those games against our first love — fans who now embrace without reservation the former Seattle team as their own.
It is good that the team members feel at home here as they reportedly do but it is just as good, probably better, that the fans feel the same way. Thunder is good.
Thunder is really, really good
Shown above are Russell Westbrook, my new little brother,
and Kevin Durant, King of Oklahoma City.
Go To Top